Blueberry Pie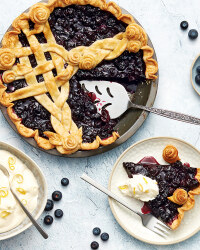 Recipe Information
Ingredients
375g Ready Rolled Shortcrust Pastry
500g Blueberries
1 Lemon (juice and zest)
3 tbsp. Caster Sugar
1 heaped tbsp. Cornflour
1 Medium Egg (beaten)
24cm Pie Dish
Method
Preheat the oven to 190°C/170 Fan/Gas Mark 5.
Roll out the shortcrust pastry a couple of centimetres more until it will fit the pie dish.
Cut a circle large enough to fill the dish and then place in and crimp the edge.
In a large bowl mix together the blueberries, lemon juice and zest, sugar and corn flour and stir well then pour on top of the pastry.
Use the remaining pastry to decorate the top of the pie - try making a lattice, plaits, flowers, stars or polka dots and create a design.
When you have finished your design brush the pastry with the egg and then bake for 45-50 minutes until the pastry is golden and the blueberries have cooked down and set into a thick filling.
Serve warm.