Made with onions, garlic and cream, this is an aromatic soup with a luxurious twist.
Blush Onion Soup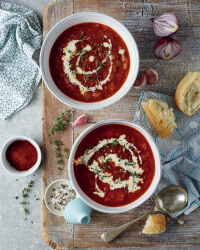 Recipe Information
Ingredients
500g Red Onions
500g White Onions
40ml Specially Selected Olive Oil
2 cloves Garlic
1 500g pack Cucina Passata
2 Quixo Vegetable Stock Cubes
600ml Boiling Water
Few sprigs Fresh Thyme OR ½ tsp Stonemill Dried Thyme
1 tsp Stonemill Paprika
80ml Double Cream
Sea Salt and Black Pepper
Method
Peel, halve and finely chop all the onions.
Peel and finely dice the garlic. Heat the olive oil in a large saucepan.
Add all the chopped onions and garlic.
Sauté on a low light for about 7 minutes – until the onions are softened.
Add the boiling water and crumble over the stock cubes.
Add the passata.
Season with the paprika, some sea salt and black pepper.
Add the thyme and bring to the boil.
Cover and simmer for about 30 minutes.
With a stick blender, slightly liquidise the soup but leave it with some remaining onion bits.
Pour into bowls and pour some cream in a swirl – add a few thyme leaves and serve.