Bourbon blended with lemon juice and cider. Topped with fresh apples.
Bourbon Cider Spritz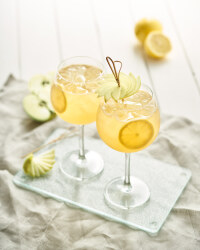 Recipe Information
Ingredients
40ml bourbon
20ml fresh lemon juice
1 tbsp sugar
Cider
Apple and lemon to garnish
Method
Shake the bourbon, lemon juice and sugar in a shaker.
Pour into a chilled wine glass over ice and top with the cider.
Garnish with a slice of apple or twist of lemon.