Bring together butternut, artichoke and cashews to make this brilliant vegan nut roast.
Butternut Squash, artichoke and cashew nut roast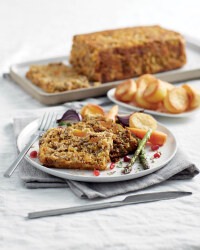 Recipe Information
Ingredients
1 x Butternut Squash
150g Cashew Nuts
1 x Stick of Celery
2 x Red Onions
2 x 280g jars Artichoke Hearts
3 x tsp Chia Seeds
60ml Warm Water
2 x tsp Paprika
75g Brown Rice
3 x Garlic Cloves
Sea Salt and Black Pepper
90ml Olive Oil
1 x 2lb Loaf Tin
Method
Soak the cashew nuts in water for at least 5 hours or overnight.
Peel the squash and remove the seeds. Chop into medium chunks and sauté them in a wok or large frying pan in 50ml oil till golden and just tender – then put into a bowl and mash roughly with a potato masher.
Peel the red onions and finely chop. Peel the garlic and mince. Wipe and finely chop the celery.
Soak the chia seeds in the water for 10 mins.
Cook the rice as per directions on the pack and drain well once cooked.
Sauté all the veg in the wok with the remaining oil for 10 mins on a low heat. Then, add the vegetables to the squash mash.
Preheat the oven to 200c/400f/gas 6.
Drain the artichokes and put into a food processor along with the drained cashew nuts and blitz then add to the squash mix.
Add the cooked rice to the squash mix along with the chia seeds. Season with some salt, black pepper and the paprika and mix well.
Line the base and sides of the loaf tin with some non-stick baking parchment. Spoon in the mixture and bake in the oven for 35 mins.