Succulent chicken legs and Chorizo in rose wine, with a sweet tomatoe stock.
Cadiz Chicken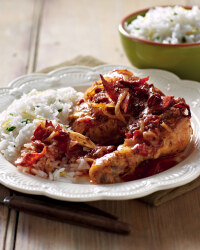 Recipe Information
Ingredients
2 x 510g Packs Ashfield Farm Chicken Leg Quarters
1 x 100g pack Sonetta
Spanish Chorizo Slices
1 x Quixo chicken stock cube
1 x large onion - peeled and sliced
3 x cloves garlic - peeled and halved
1 x 400g tin Sweet Harvest Chopped tomatoes
500ml Toro Loco Rose wine
1 x teaspoon Stonemills dried mixed herbs
Salt and black pepper
A little Solesta olive oil
A little plain flour
Method
Dust the chicken leg quarters with a little flour, salt and pepper.
Slice the chorizo slices into strips.
In a large frying pan heat a little oil and brown the chicken, transfer to the slow cooker, fry the onion for a few mins in the same frying pan to colour, then add the chopped tomatoes, chorizo, wine, herbs , garlic and crumbled stock cube - bring to the boil and pour over the chicken.
Cook the casserole as instructions on your slow cooker.
Approx 4/6 hours on high or 8/10 hours on low.