Put a spicy stamp on salmon with this cajun twist
Cajun Salmon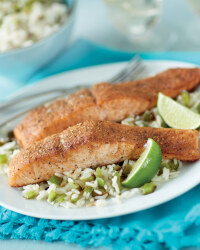 Recipe Information
Ingredients
1 x 280g packet The Fishmonger Fresh Salmon Fillets
1 x dessert spoon Fiddes Payne Cajun Seasoning
1 x Lime
1 x Pouch Bilash Microwavable Long Grain Rice
1 x Green Pepper
Method
Cut the lime in half. Squeeze the juice from ½ the lime over the salmon fillets, sprinkle over the Cajun seasoning.
Either grill, BBQ or oven bake the salmon until cooked.
Grill/BBQ for 5-6 minutes. Oven bake at 200˚C/400˚F/Gas Mark 6 for 10 minutes.
Chop the pepper into small pieces, sauté in a little sunflower oil until just coloured.
Cook the rice as instructed on the packet, pour out, mix with the green pepper and serve alongside the salmon and garnish with a quarter of lime.