Vodka, mixed with lime, apple and raspberry juice.
Cape Cod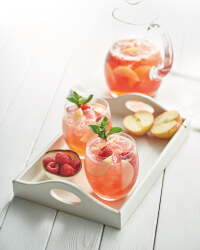 Recipe Information
Ingredients
50ml vodka
25ml lime Juice
Sliced apple and raspberries to garnish
Method
Pour the vodka, lime juice and apple & raspberry juice over the raspberries and sliced apples, into a long glass.
Garnish with apple slices and raspberries.