Tangy pears with creamy Brie, this delicious dish is decadent enough to bring a touch of class to any meal.
Caramelised Pears with Brie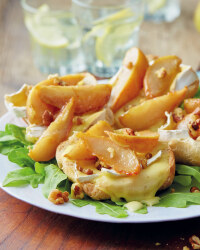 Recipe Information
Ingredients
8 Funsize Pears
200g pack Brie
4 Ciabatta Rolls
40g Butter
40g Light Brown Soft Sugar
30g Walnuts
70g bag Rocket Leaves
35ml Balsamic Vinegar
Find your ingredients online on Click & Collect or find your nearest store using our Store Finder.
Method
Pre-heat the oven to 200°C/400°F/Gas Mark 6.
Bake the rolls in the oven for 10 minutes.
Meanwhile, cut the pears into quarters and remove any pips.
Sauté them in a large frying pan with the butter and sugar for about 5 minutes until they are caramelised, then add the balsamic vinegar and cook for a further 2 minutes.
Thinly slice the brie.
Roughly chop the walnuts then put on a tray and bake in the oven for a few minutes to crisp.
Cut the rolls in half and top them with the brie slices.
Return to the oven for a couple of minutes to melt.
Serve the rolls topped with the pear slices and sprinkle with walnuts on a bed of rocket leaves.