Total cost:

Less than

£

10
Smooth, creamy and wholesome soup, packed with vegetables.
Chef's Tip
Use a speed peeler on the carrots, parsnips and apple to avoid waste
Carrot, Parsnip & Apple Soup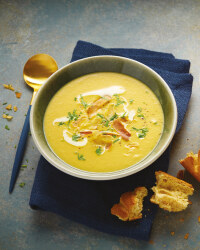 Recipe Information
Ingredients
350g Carrots, chopped into small chunks
300g Parsnips, chopped into small chunks
1 Large Onion
1 Large Baking Apple
2 Vegetable Stock Cubes
2 tsp Paprika
25ml Olive Oil
1 litre Boiling Water
100ml Double Cream
6g Fresh Parsley, chopped
Sea Salt and Black Pepper
Method
Gently sauté the onion in the olive oil in a saucepan until softened, but not browned.
Add the parsnips and carrots.
Pour in the boiling water, crumble in the stock cubes and add the paprika.
Bring back to the boil, cover and simmer.
Peel and core the apple, chop the flesh finely and add to the soup.
Cook for 40 minutes until tender.
Liquidise, season with some salt and pepper, then stir in the cream.
Prior to serving, scatter some chopped parsley.