Crunchy carrot burger, with spinach and pomegranate dressing.
Carrot Burger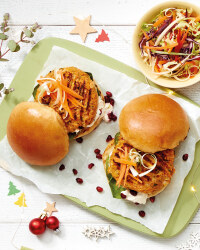 Recipe Information
Ingredients
400g Carrots, peeled
1 x Red Onion
2 x Cloves Garlic
5g fresh Coriander
60g Oats
1 x 400g tin Cannellini Beans
1 x tsp Ground Coriander
1 x tsp Smoked Paprika
1 x tsp Ground Cumin
1 x pack 4 Vegan Brioche Burger Buns
100g Acti Leaf Soya Yogurt
40g Pomegranate Seeds
15g Spinach Leaves
1 x Spring Onion
1 x Small Carrot
Sea Salt and Black Pepper
Method
Grate the carrots and squeeze out any excess water.
Peel and finely chop the red onion. Peel and mince the garlic.
Finely chop the coriander.
Drain the beans then mash.
In a bowl, mix the carrots, onion, fresh coriander, beans, garlic, oats, cumin, coriander, paprika and season with some salt and pepper.
Divide the mixture into 4 balls, then flatten to make 4 burgers. Grill, fry or barbecue for 6/7 minutes on each side.
Mix the pomegranate seeds with the yogurt.
Thinly slice the spring onion.
Peel the carrot and cut into matchsticks.
Toast the buns.
Serve the burgers in the buns, with spinach leaves and the pomegranate dressing. Top with some spring onion ribbons and carrot sticks.