Fruity and crunchy almond cakes, great for parties and sharing.
Cherry & Almond Cakes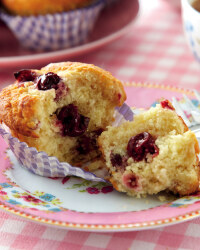 Recipe Information
Ingredients
125g Creamy Butter Unsalted
175g Greek Style Yogurt
200g Self Raising Flour
100g Ground Almonds
1 Large Egg
200g Cherries - pitted and halved
150g Caster Sugar
1 tsp Baking Powder
Method
Preheat the oven to 180°C/350°F/Gas Mark 4.
Line a 12 hole muffin tin with paper cases.
In a pan melt the butter. Once melted mix with the rest of the ingredients and beat well.
Divide the mixture between the paper cases and bake in the oven for 20 minutes, until golden and risen.