This hearty and filling pie recipe is a family classic. Brilliant for evening meals.
Chicken & Leek Pie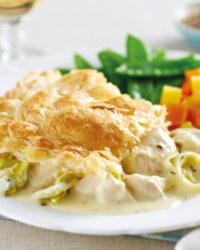 Recipe Information
Ingredients
750g British Chicken Breast Fillets (on sale from 6th March 2014 subject to availability)
250g Leeks
440g Cucina Creamy Lasagne Sauce
100ml Cowbelle British Double Cream
1 tsp Bramwells English Mustard
1 tsp Stonemill Dried Parsley
375g pack Greenvale Ready Rolled Puff Pastry
½ Swede, diced
400g Carrots, diced
150g pack Mangetout
25g Greenvale Salted Butter
Black Pepper and Salt
A little Solesta Olive Oil
A little Cowbelle British Milk
Method
Pre-heat the oven to 200°C/400°F/Gas Mark 6.
Chop the chicken breasts into bite size pieces.
Wash and trim the leeks and cut into thin rings.
Heat a little oil in a wok or large frying pan, fry the chicken breast pieces until lightly browned, add the washed leeks, the Cucina sauce, English mustard, cream and parsley.
Season with black pepper and mix well.
Transfer the mixture into an oblong baking dish about 30 x 20 cm (12" x 8").
Unroll the pastry and cover the chicken, trim the pastry to fit and crimp the edges.
Make a few cuts in the top, to allow the steam to escape, and lightly brush with a little milk.
Bake in the oven for 25-30 minutes, until the pastry has risen and is golden.
Meanwhile, add swede and carrots to a saucepan, cover with some salted boiling water, cover and cook for about 10 minutes, drain well, add the butter and keep warm.
Cook the mangetout in some boiling salted water for 5 minutes, then drain well.
Serve the pie with your fresh vegetables.