Tender chicken, creamy mushroom and flaky pastry make this classic dish a must-try.
Chicken and Mushroom Pie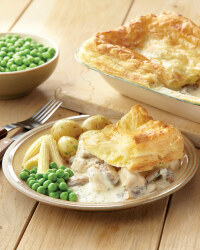 Recipe Information
Ingredients
500g Chicken Breast Fillets
2 x 290g tins Sweet Harvest sliced mushrooms
1 x 200g pack Smooth and Creamy soft cheese with garlic and herbs
10x 375g pack Greenvale ready rolled puff pastry
1 x teaspoon Stonemills dried parsley
1x 335g pack fresh broccoli
400g Carrots
Half a Savoy cabbage
A little oil and milk
Salt and black pepper
Find your ingredients online on Click & Collect or find your nearest store using our Store Finder.
Method
Preheat the oven to 200°c/400°f/gas 6.
Chop the chicken breast into bite size chunks and saute in a little oil in a sauce pan until browned, drain the mushrooms and add to the pan, then add the soft cheese, parsley and some black pepper - cook, stirring until the cheese has melted, transfer the mixture to a pie dish.
Top the pie with the pastry, decorate with any bits left after you have trimmed the pastry - brush the pastry lightly with some milk.
Bake in the oven for 30 minutes, until the pastry has risen and is golden.
Meanwhile, peel the carrots and cut into batons, break the broccoli into florets and shred the cabbage, boil or steam the vegetables for 5/10minutes until tender, drain and serve alongside the pie.
Aldi Wine Matches
Looking for the perfect wine match for this recipe? See below for our dedicated recommendations:
Lot Series 05 Leyda Sauvignon Blanc 2014
Lot Series 07 Bushvine Chenin Blanc
Lot Series 12 Anjou Chenin Blanc 2013