Classic creamy pasta bake made with chicken, tomatoes and cheese. Perfect family meal.
Chicken and Tomato Pasta Bake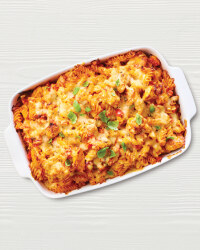 Recipe Information
Ingredients
1 x 650g pack Chicken Breast Fillets
300g Fusilli Pasta
1 x Red Onion
1 x 6 pack Tomatoes
500g Passata
300ml Crème Fraîche
1 x Lemon, juiced
2 x small handful of fresh Basil, chopped
2 tsp Paprika
100g Cheddar Cheese, grated
40ml Olive Oil
Black Pepper
Find your ingredients online on Click & Collect or find your nearest store using our Store Finder.
Method
Pre-heat the oven to 200°C/Gas Mark 6.
Cook the pasta as per instructions on the pack.
Meanwhile, peel and chop the onion finely. Chop the tomatoes into small chunks. Cut the chicken fillets into bite-sized pieces.
In a large frying pan, sauté the onions and the chicken in the olive oil until just slightly brown.
In a large bowl, mix the crème fraîche, passata, lemon juice, 1 small handful of chopped fresh basil and paprika, then season with plenty of black pepper, mixing well.
Add the cooked chicken and onion into the mixing bowl, along with the other ingredients and mix well.
Pour into an ovenproof dish, sprinkle over the grated cheese and bake in the oven for 25 minutes.
Ensure the dish is thoroughly cooked and piping hot throughout before serving.