Easy and tasty chicken skewers, ideal for BBQ season.
Chicken and Tomato Skewers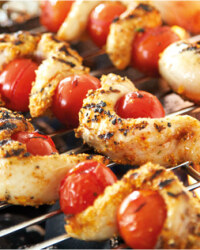 Recipe Information
Ingredients
1 x 375g Pack Ashfield Farm Chicken Breast Mini Fillets
1 x 250g Pack Cocktail Tomatoes
½ Sachet Bramwells BBQ Marinade Sachets
1 x 2 Pack Frozen Carlos Garlic Baguettes
4 Bamboo or Metal Skewers
Find your ingredients online on Click & Collect or find your nearest store using our Store Finder.
Method
Thread two mini fillets along with 4 tomatoes onto each skewer.
Sprinkle the marinade/seasoning over the kebabs.
Wrap the garlic breads in some tin foil.
Cook the Skewers on the BBQ or on the grill for about 10 minutes.
Cook the garlic bread in the tin foil on the BBQ or in the oven for 15 minutes.