An easy roast dinner for chilly days, with wonderfully warming roast seasonal vegetables.
Chicken Roast Traybake Dinner with Roast Potatoes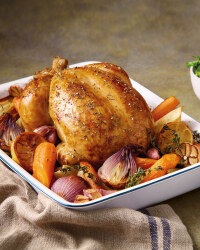 Recipe Information
Ingredients
1 large Chicken, approx. 2kg
4 Parsnips
4 Carrots
4 sticks Celery
4 medium Red Onions
2 Leeks
1 Lemon
2 cloves Garlic
80ml Olive Oil
Fresh Thyme
1kg Maris Piper Potatoes
100ml Sunflower Oil
Quixo Chicken Gravy Granules
Sea Salt and Black Pepper
Method
Pre-heat the oven to 200°C/Gas Mark 6.
Peel the carrots and parsnips and cut into halves. Trim the onions and cut into halves. Wipe the celery and cut into halves. Wash the leeks well and cut into 4. Put all the vegetables into the bottom of a large roasting tin. Cut the lemon in half and add to the vegetables.
Put the chicken on top, drizzle over the olive oil, and season with salt, pepper and some sprigs of fresh thyme. Roast in the oven for 80 minutes or until the juices run clear when skewered in the thickest part of the leg.
Meanwhile, peel the potatoes and cut into same-size pieces of about 8cm wide. Parboil in some salted water with the garlic cloves for 10 minutes. Drain well and discard the garlic.
Pour the sunflower oil into a roasting tray. Heat in the oven for a few minutes, then add the potatoes and roast for 45 minutes.
Serve the chicken with the roasted vegetables and the roast potatoes. Make some gravy with the Quixo granules and serve with your chicken dinner.