Succulent chicken, delicious bacon and sautéed onions bursting with flavour. What more could you want in a meal?
Chicken Wrapped in Bacon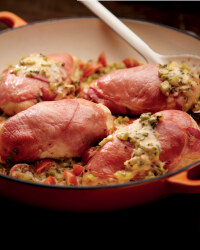 Recipe Information
Ingredients
1 x 750g Bumper pack Chicken breast fillets 1 x pack Extra trimmed Back Bacon 1 x bunch spring onions 4 x sticks celery 1 x 250g punnet cherry tomatoes 2 x teaspoons Stonemill basil 1 x Quixo vegetable stock cube 300ml water 100ml Cowbelle single cream A little Solesta olive oil Salt and black pepper
Find your ingredients online on Click & Collect or find your nearest store using our Store Finder.
Method
Preheat the oven to 200°C/400°F/Gas Mark 5.
Cut the bacon in half lengthways. Wrap two slices of bacon around 4 of the chicken fillets in a criss cross.
Put the chicken in a baking tray and bake in the oven for 25 minutes.
In the meantime, chop the spring onions and celery finely.
In a large frying pan, add a little olive oil and sauté the onions and celery on a low light for 5 minutes.
While they are cooking, cut the tomatoes into quarters, add to the pan along with the water, basil, paprika, stock cube and seasoning, bring to the boil and then simmer for 20 minutes.
Check the sauce, add the cream, warm through and serve on the chicken.
Great served alongside rice or pasta.