Hot chocolate cocktail made with dark rum and topped with cream.
Choco Locos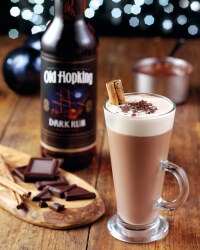 Recipe Information
Ingredients
250ml Cowbelle Full Fat Milk
100g Moser Roth Milk Chocolate
½ tsp Cornflour
1 swirl Cowbelle Double Cream
100g Moser Roth Dark Chocolate
25ml Old Hopking Sea Dog Spiced Rum
Method
Add the cornflour to a little milk to make a paste. Place to one side.
Gently heat the milk until it is hot but not boiling. Remove from heat.
Whisk in the cornflour mixture and the grated chocolate.
Stir until chocolate has melted.
Place back on low heat until the mix has changed consistency and thickened.
Once heated, serve in a warmed mug before adding a measure of rum and top with a swirl of double cream.
Decorate with grated dark chocolate.