For me? Treat yourself to these easy, quick and delicious mini chocolate pudding truffles. Yum!
Christmas Pudding Chocolate Truffles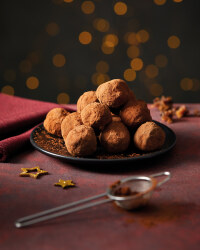 Recipe Information
Ingredients
200g Leftover Christmas Pudding
140g Milk Chocolate
10ml Amaretto, Brandy, Sherry or Dark Rum
20g Cocoa Powder
Method
Break up the chocolate and melt in a heatproof dish over a pan of boiling water – make sure the bottom of the dish doesn't touch the water.
In another bowl crumble in the pudding, add the chosen spirit and mix well.
Once the chocolate has melted take the bowl off the water, add the pudding mixture and stir well.
Take teaspoons of the mixture, roll into a ball and then roll in the cocoa powder.
Place in the fridge to set for 10 minutes.
Top Tip
Leftover nuts and dried fruit can also be added to this recipe.