A light, citrusy whiskey punch. Perfect for an aperitif.
Citrus Whiskey Punch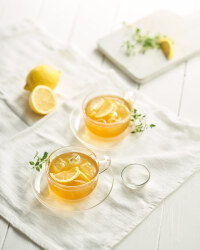 Recipe Information
Ingredients
50ml whiskey
1 tbsp sugar
60ml cold green tea
Dash of fresh lemon juice
Ice cubes
Lemon to garnish
Method
Shake all ingredients in a shaker and pour over the ice into 2 teacups.
Garnish with lemon slices.