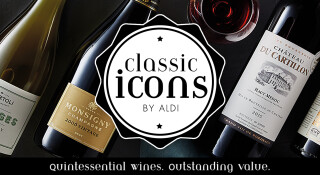 Aldi's Premium Collection.
Sometimes we come across a bottle of wine that needs to be savoured. A bottle of wine that we can really get excited about. That's what Aldi's Classic Icons wine range is all about. This new, premium wine range showcases wines from all over the world - from Old World French classics to New World New Zealand whites, including some online exclusives and all at outstanding value.
Expertly done.
Aldi's wine expert and Mistress of Wine, Sam Caporn, knows better than most that a truly classic wine is one that can transport you to another place. And now she's used her excellent taste buds to help pick 5 iconic wines for us all to enjoy.

Château du Cartillon Haut-Médoc
"This is a really delightful wine with notes of cedar, spice, cassis leaf and black cherry. Elegant, well-balanced and representing extraordinary value at this price. Highly recommended!" Pairs perfectly with mushroom risotto.
Yarra Valley Chardonnay
"I love Chardonnay and this is a great example! Subtle notes of oak with some spice and smoke, integrated and offset by poised, taut acidity and yellow fruit. A refined, new wave style of Aussie Chardonnay." Pairs perfectly with fish and vegetables.
Hirtl Kirchberg Gruner Veltliner
"An excellent example of a Gruner Veltliner, with aromas of apricot and cream leading to tight, refreshing citrus acidity. The palate is pleasingly textured though and really well-balanced. Lovely." Pairs perfectly with herb-crusted chicken.
Veuve Monsigny Champagne 2006
"Made from 100% Chardonnay – this is a Blanc de Blancs Champagne and as such is refined, restrained and refreshing, with notes of apple and lemon and a suggestion of shortbread on the finish. A real treat." Pairs with an antipasti board, enjoy!
Cathedral Cellar Pinotage
"With a deep, youthful colour, this wine is brimming with notes of mulberry, dill, vanilla and luscious black fruits. Soft, succulent and seductive, this Old Vines red is one of the nicest Pinotages I've tasted." Enjoy with a vegetarian chilli.
Mix and match.
Create your own case containing your favourite wines and spirits. Simply select 6 or more wines or spirits and we'll deliver straight to your door – for free.