This refreshing Clementine Prosecco Mule is sweet and sour on the palate. Try it!
Clementine Prosecco Mule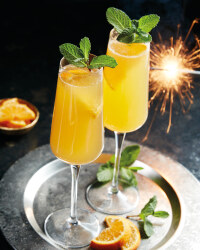 Recipe Information
Ingredients
50ml clementine juice
Juice from ½ lime
40ml Vodka
50ml chilled Church's Ginger Beer
50ml chilled Prosecco
Clementine slices to garnish
Mint sprig for garnish
Method
Take a glass and mix the clementine and lime juice with the vodka, then add the ginger beer and top up with the Prosecco.
Finish it off with the clementine slices and mint garnish.