A tasty take on classic French-style crepes, topped with delicious softly cooked and sugary apple slices.
Crêpes with Caramelised Apple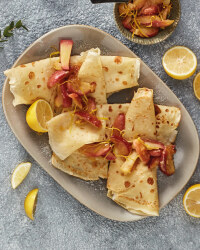 Recipe Information
Ingredients
75g Plain Flour
1 Medium Egg
200ml Semi-Skimmed Milk
1 Eating Apple, cored and thinly sliced
35g Caster Sugar
Finely grated zest and juice of 1 Lemon
1 tbsp Vegetable Oil
Method
Put the flour into a large jug or mixing bowl.
Add the egg and milk and beat with a whisk to make a smooth batter.
Heat a pancake pan or non-stick frying pan.
Add a few drops of vegetable oil to the pan.
Pour in a quarter of the batter and tilt the pan so that it spreads evenly over the surface.
Cook over a medium heat for 1-2 minutes until set, then flip over to cook the other side (keep the pancakes in a warm place until all of them are cooked).
Make 4 pancakes in total, adding 2-3 drops of oil to the pan for each one.
Heat the remaining oil in the frying pan over a medium-high heat then sauté the apple slices for 3-4 minutes.
Sprinkle the sugar over them and cook for a couple more minutes until lightly browned.
Add the lemon zest and juice, stir to coat, then remove from the heat.
Serve 2 pancakes per person, topped with the caramelised apples.