A wonderfully zesty drink, perfect for summertime.
Cramaretto Sour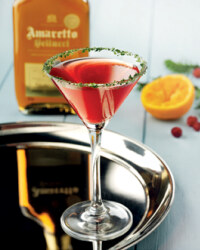 Recipe Information
Ingredients
500ml Rio D'Oro Cranberry Juice
250ml Tamova Vodka
125ml Bellucci Amaretto
50ml Freshly Squeezed Orange Juice
1 Orange, cut into wedges
2 strips of Clementine Zest
Ice Cubes, as required
2 sprigs Parsley, 1 finely chopped
Find your ingredients online on Click & Collect or find your nearest store using our Store Finder.
Method
Mix liquids and one sprig of parsley in a jug and chill.
Wet the rim of the martini glass with the orange wedge and dip into the chopped parsley.
For two drinks, fill a cocktail shaker with ice cubes, pour in 200ml of the mixture, cover and shake vigorously.
Strain into two chilled martini glasses and garnish with clementine zest