Great with roast lemon chicken to truly top off your Sunday roast.
Crispy Parmesan Potatoes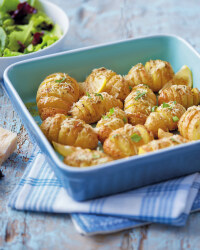 Recipe Information
Ingredients
800g Salad Potatoes
120ml Solesta Olive Oil
1 heaped tsp Cucina Green Pesto
1 tsp Stonemill Garlic Granules
40g Parmigiano Cheese
Sea Salt and Black Pepper
Find your ingredients online on Click & Collect or find your nearest store using our Store Finder.
Method
Pre-heat the oven to 200°C/400°F/Gas Mark 6.
Put the potatoes in a pan, cover with cold water, season with some salt and then bring to the boil.
Drain and allow to cool a little.
Using 2 wooden kebab sticks, put each potato on a chopping board, put a stick on either side, then slice the potato.
The sticks will stop you cutting straight through, so you will have mini hassleback potatoes.
Put the potatoes into a roasting dish.
Mix the pesto, olive oil and garlic granules together, season with salt and pepper.
Drizzle this over the potatoes and roast for about 45 minutes, basting as you cook.
Finely grate the cheese.
Once the potatoes are cooked, sprinkle over the cheese and put back in the oven for 3 minutes to melt, then serve.