These indulgent, easy-to-make desserts are a luxurious summer treat.
Dark Cherry Quark Sundae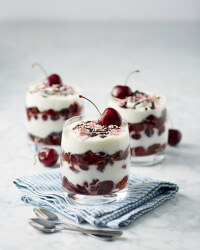 Recipe Information
Ingredients
160g Frozen Dark Sweet Cherries
250g Vanilla Quark
50g Dark Chocolate
5g Hundreds & Thousands
4 Tumbler Glasses
Method
Place the chocolate in a heat-proof bowl, over a pan of simmering water, to melt.
Scatter a few cherries into 4 tumblers.
Spoon half the quark over the top of the cherries in an even layer.
Repeat with a further layer of cherries.
Divide the remaining quark between the 4 tumblers and scatter over the remaining cherries.
Finish with a drizzle of melted chocolate and some hundreds & thousands.
Store in the fridge until ready to serve.