Deliciously tasty beef, simmers with tomatoes, basil and mushrooms and served with a deliciously hearty cobbler topping.
Easy Mince Hotpot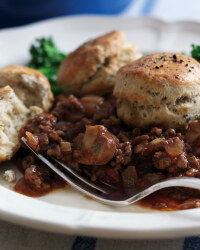 Recipe Information
Ingredients
500g Premium Lean Steak mince
1 × 400g can of chopped tomatoes with herbs
200g mushrooms, thickly sliced
1 pot of basil, trimmed and roughly chopped
2 tbsp vegetable oil
2 level tbsp beef granules
2 small onions, peeled and chopped
3 tbsp brown sauce
2 cloves garlic, peeled and chopped
Cobbler Topping (makes 12-14 small scones)
25g unsalted butter
1 medium egg, beaten
2 heaped tsp dried oregano
225g self-raising flour
2 tsp Aldi Dijon mustard
Pinch of salt
4-5 tbsp milk
Method
Pre-heat the oven to 200°C, gas mark 6.
Heat the 2 tbsp vegetable oil in a 25cm × 20cm deep casserole dish.
Add the chopped onions, garlic and mushrooms.
Cook over a high heat for 10 minutes, to get heat into the dish.
Add the mince, break it up well and cook until it changes from red to fawny colour.
Stir in the tomatoes, basil, granules, brown sauce and mix really well.
Simmer slowly for 20 minutes.
Top with the mini cobblers, turn the heat down until it's at its lowest setting.
Cover and warm the topping through, for about 10 minutes.
Uncover and serve.
Cobbler Topping
Pre-heat the oven to 220°C, gas mark 7.
Rub the butter and salt into the flour lightly.
Add the oregano.
Now add the egg, mustard and half the milk and mix very lightly until you have a soft dough, do not overwork.
You can always add a little extra milk if needed.
Roll out very carefully until the dough is roughly 1cm thick.
Cut out with a small plain cutter and place on a lightly greased baking sheet.
Brush the tops with a little milk and a sprinkling of black pepper.
Cook in the pre-heated oven until well risen and golden, about 10-12 minutes.
Cool, then place on top of the cooked mince hotpot.