This twist on a classic cupcake will be sure to get the party started.
Eton Mess Cupcakes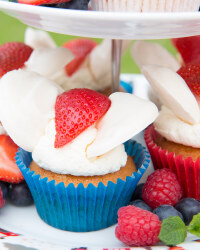 Recipe Information
Ingredients
For the cakes:
150g soft salted butter
150g caster sugar
150g self-raising flour
½ tsp baking powder
3 large eggs, at room temperature
2 tbsp milk
1 tsp vanilla extract
To fill and decorate:
1 large egg white
60g caster sugar
90g strawberry jam
300mls double cream
3 large fresh strawberries
Method
Preheat the oven to 180°C/fan 160°C/gas mark 4 and line a 12 hole cupcake tray with cases. Beat together all of the cupcake ingredients using either an electric mixer or by hand. This should take about 4 minutes with a mixer or about double the time with a wooden spoon. When it's ready, the mixture will be lighter than when you started, and look a little like whipped double cream. It will also easily drop off a metal spoon if held from a height. Divide the mixture equally between the cases and bake for 20 – 25 minutes until the cakes are light brown, feel springy and a toothpick inserted into the middle cake comes out clean. Remove from the tray and cool on a wire rack.
Turn the oven down to 140°C/fan 120°C/gas mark 1 and line a couple of baking trays with foil, shiny side up. Make the meringues by whisking the egg white to soft peaks. Add the castor sugar 1 tsp at a time, whisking well after each addition until the mixture is brilliant white, very glossy and stiff. Pipe or spoon 24 circles of meringue onto the foil, roughly the same size; about 4cm in diameter and flat. You can make some extra in case some snap after baking.
Place the baking trays in the oven and immediately turn down to 110C/fan90C/gas mark 1/4. Bake for an hour and a half until they're completely dried out and easily come away from the foil, then cool on a wire rack. In the meantime use an apple corer or sharp knife to remove the centres of the cupcakes (careful not to cut all the way to the bottom) and fill with strawberry jam. You can eat the cupcake centres as a chef's perk!
To assemble the cakes whip the double cream to stiff peaks and spoon/pipe a tablespoon on top of each cupcake. Add two meringue discs as wings (as you could a butterfly cake) and cut the strawberries into quarters, lengthways, to arrange between the wings as a 'body'. Serve immediately and remember to keep leftovers refrigerated, given they contain fresh cream.
NB: If your strawberries are small, use two quarters as a body.
TIP:
Did you know you can make meringue with brown sugar as well as white? They taste delicious; a little like toffee, and are light brown in colour.