An indulgent homemade fudge. A must-have gift for all your favourite people.
Festive Fudge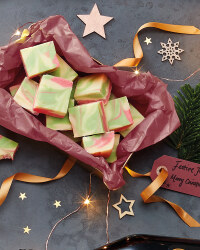 Recipe Information
Ingredients
500g White Chocolate
400ml Condensed Milk
30g Unsalted Butter
1 tsp Vanilla Extract
1 tsp Green Food Colour
1 tsp Red Food Colour
19cm x 19cm square tin lined with greaseproof paper
Method
Place the white chocolate, condensed milk and butter in a microwave safe bowl. Microwave for 30 seconds and stir well, then repeat until the mixture is fully melted and smooth. Add the vanilla extract and stir to combine.
Divide into 3 bowls and add the red colour to one bowl and the green colour into another. You should have 3 bowls of melted mixture in white, red and green. If the mix has hardened, place them back in the microwave until pourable.
Pour the 3 mixtures into the lined tin and use a fork to swirl together. Set in the fridge for 2 hours. When set, slice into 1" cubes and wrap as a gift.