A colourful medley of vegetables in a delicious baked rice casing.
Feta Vegetable and Rice Bake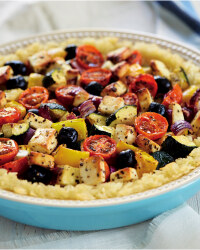 Recipe Information
Ingredients
400g Bilash Long Grain or Basmati Rice
2 Large Eggs
45g Grated Parmesan Cheese
1 Red Onion
1 Courgette
1 Pepper
200g Cherry Tomatoes
1 tsp Stonemills Dried Basil
45g Solesta Pitted Black Olives
200g pack Feta Cheese
50 ml Solesta Virgin Olive Oil
Salt and Black Pepper
1 shallow ovenproof dish approx. 20 x 30cm
Find your ingredients online on Click & Collect or find your nearest store using our Store Finder.
Method
Pre-heat the oven to 190°C/375°F/Gas Mark 5.
Cook the rice as per instructions on the pack – drain and allow to cool a little.
Meanwhile, peel the red onion and chop into medium size chunks.
Chop the courgette into the same size pieces.
Chop the pepper, discarding any pith and seeds, the same size as the onions and courgette.
Halve the cherry tomatoes.
Chop the feta into chunks the same size as the vegetables.
Mix all the above along with the olives in a bowl with the olive oil and the basil, season with some black pepper and mix well.
Beat the eggs, add the grated Parmesan cheese and mix with the rice.
Grease the dish with some olive oil, spread the rice mixture over the base and up the sides of the dish.
Pour the vegetable mix in the centre.
Bake in the oven for 40 minutes – until the rice on the sides is crisp and the vegetables browned.
Cut into slices or quarters and serve.