These yummy fruit lollies are so easy to make that the kids can get involved too.
Fruit Popsicles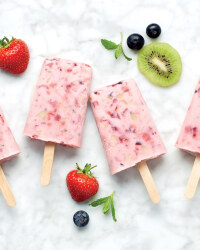 Recipe Information
Ingredients
200g Greek Style Natural Yogurt
100ml Milk
2 tbsp Clear Honey
100g of your favourite summer fruits – kiwi, strawberries, cherries or blueberries
Popsicle mould or paper cups and straws
Method
In a mixing bowl, combine the yogurt, milk and honey.
Finely dice the fruit and stir into the yogurt mix.
Divide between popsicle moulds or paper cups.
Place a handle or straw into each of the popsicles.
Freeze overnight.
To remove the popsicles, warm the moulds with the heat of your hands for 10-20 seconds until the outside of the popsicles melt a little.
Use the stick/straw to pull the popsicle out of the mould.