All your Sunday roast favourites in one giant tasty Yorkshire pudding.
Giant Yorkshire Pudding Sunday Lunch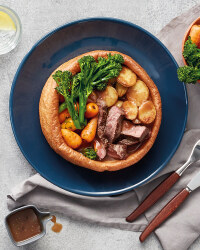 Recipe Information
Ingredients
2 x 250g 21 Day Mature Rump Steaks
200g Carrots
200g pack Broccoli
400g Salad Potatoes
140g Plain Flour
300ml Semi Skimmed Milk
5 x medium Eggs
60ml Sunflower Oil, plus extra to sauté
Salt
20g Beef Gravy Granules
4 x 16cm round shallow cake tins
Method
Pre-heat the oven to 220°C/Gas Mark 7.
Sieve the flour into a bowl and add a pinch of salt.
Whisk the eggs with the milk in another bowl. Make a well in the centre of the flour and gradually add the milk mixture, slowly beating until you have a smooth batter.
Divide the oil between the cake tins and put into the oven to heat up.
Then divide the batter between them and put back into the oven and cook for 15 to 20 minutes, until risen and crisp. Keep to one side.
Meanwhile, slice the potatoes and sauté in some oil until crisp and brown, then keep warm in the oven.
Peel the carrots and cut into batons. Cook in some boiling salted water along with the broccoli until cooked, then drain well.
Use 280ml of the vegetable water to make the gravy with the granules.
Thinly slice the rump steaks and fry quickly in some oil until sealed on both sides.
Divide the vegetables and the beef between the 4 Yorkshire puddings and serve alongside the gravy.