Learn how to build and decorate a gingerbread house with your family.
Gingerbread House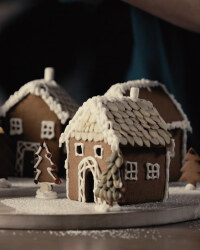 Recipe Information
Ingredients
230g Unsalted Butter
180g The Pantry Soft Dark Brown Sugar
90g Honey
550g The Pantry Plain Flour
2 tsp Bicarbonate of Soda
3 tsp Ground Ginger
1 tsp Ground Cinnamon
2 Egg Whites
450g Icing Sugar
2 tsp Lemon juice
Method
Begin by cutting out the 3 templates needed to make each gingerbread house and put to one side for later.
Melt the butter, brown sugar and honey together in a saucepan.
While they melt, sieve the flour and mix with the bicarbonate of soda, ginger and cinnamon then make a well in the centre.
When the butter, sugar and honey have melted stir to combine and pour into the flour mixture.
Then, carefully stir the mixture together (it will be hot) until combined and when the mixture is cool enough use your hands to create a stiff dough.
Divide the dough equally into 5 balls.
Roll the first portion of dough, between two pieces of grease proof paper, to about 1/2 cm thick. Then using the templates, cut out 2 of each to create the 6 pieces needed to make each house (If you would like to have cut out windows and a door they can be cut out now or piped on after instead).
Repeat this 4 more times to create enough to pieces to make 5 gingerbread houses and bake each batch for 8-10 minutes at 180°C.
While the gingerbread pieces cool, make the icing by whisking the egg whites until frothy and then add the icing sugar one tablespoon at a time.
Next stir in the lemon juice and whisk until the mixture is thick and holds a stiff peak. Cover the icing with a tea towel until ready to use.
To assemble the houses fill a piping bag with the Royal icing and pipe a line along the edges of the back piece and hold the sides in place.
Next pipe a line along the front edges and place the on the front piece. If necessary use cocktail sticks to hold the sides in place.
Finally pipe the icing along the top edges and place on the roof.
Finish by decorating with your favourite sweets or pipe a design with the icing.