Clementine gin liqueur, cranberry juice, a bit of lime and a dash of Prosecco.
Glitter Cosmo Royale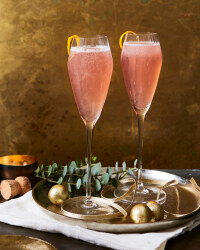 Recipe Information
Ingredients
50ml The Infusionist Snow Globe Clementine Gin Liqueur
25ml Cranberry Juice
25ml Lime Juice
75ml Costellore Prosecco Spumante DOC
Method
Set the Prosecco aside. Shake the other ingredients with ice and strain into a Prosecco glass.
Top with the Prosecco, then garnish with an orange peel twist.