Skewered halloumi and roasted vegetables served with homemade tzatziki and pita bread.
Greek Halloumi Kebab Tower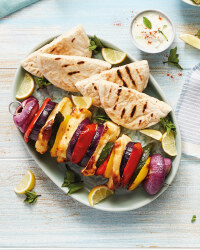 Recipe Information
Ingredients
Kebab
2 x 225g packs of Halloumi
1 Large Red Onion
1 Courgette
1 Red Pepper
1 Yellow Pepper
1 Aubergine
2 tbsp Honey, for glazing
4 Pitta Breads
Marinade
75ml Olive Oil
1 tbsp Dried Oregano
2 Garlic Cloves
½ Lemon, juiced
1 tsp Paprika
1 tsp Ground Cumin
½ tsp Salt
½ tsp Pepper
Tzatziki
200g Greek Style Yogurt
½ Cucumber
1 Garlic Clove
15ml Lemon Juice
15ml Olive Oil
¼ tsp Salt
¼ tsp Pepper
¼ tsp Paprika
1 Strong Wooden Kebab Skewer (or multiple thinner kebab skewers)
Method
Begin by preparing the ingredients for the kebab.
Halve the onion then cut the aubergine, courgette and peppers into chunky slices, suitable for stacking.
Slice each block of halloumi into 2 slices, around 1-2cm thick.
Mix together the ingredients for the marinade and pour over the vegetables and halloumi.
Pre-heat the oven to 200oC/Fan 180oC/Gas Mark 6.
Use one of the onion halves as the base (flat side down) and insert the skewer into the onion.
Stack the vegetables and halloumi on top of the onion, using the kebab sticks to secure them, and press down to fit as much as possible.
Top the kebab tower with the other onion half and place any vegetables you couldn't fit onto the skewer on the tray around the base.
Roast the kebab for 30 minutes then brush with the honey and put back in the oven for a further 5-10 minutes until the vegetables are cooked and beginning to char.
While the kebab is in the oven, start the tzatziki by removing the seeds from the cucumber, then grating.
Combine the grated cucumber with all of the other tzatziki ingredients, then leave in the fridge until needed.
Carve the kebab and serve along with the tzatziki and pitta bread.