Homemade green olive breadsticks with seasoned baba ganoush.
Green Olive Breadsticks with Aubergine Dip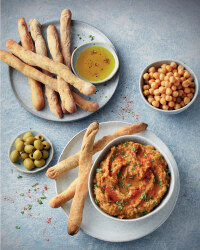 Recipe Information
Ingredients
For the breadsticks:
400g Plain Flour
7g sachet Dried Yeast
240ml warm Water
10g Caster Sugar
40ml Olive Oil
½ tsp Garlic Granules
100g Green Olives
Sea Salt and Black Pepper
For the dip (baba ganoush):
2 Aubergines
100ml Olive Oil
400g tin Chickpeas
2 cloves Garlic
Juice ½ Lemon
1 heaped tsp Smoked Paprika
1 heaped tsp Ground Cumin
Big pinch of Chilli Powder
Sea Salt and Black Pepper
Method
Make the breadsticks
Put the yeast in a small bowl with the caster sugar and 120ml of the warm water. Stir well and leave for 5 minutes until it starts bubbling.
Put the flour into a food processor with the garlic granules and season with some salt and black pepper. Cut the olives in half and put into the flour. Blitz for a minute to chop the olives.
Put the flour in a large bowl along with the yeast mixture, olive oil and the remaining warm water. With your hands, mix to a soft dough.
Transfer to a floured work surface and knead for 5 minutes.
Put the dough into a clean bowl somewhere warm and cover. Leave for 40 minutes to prove.
Once it has risen, tip onto the work surface, then knock back and knead for a couple of minutes.
Take balls of the dough – about 60g – and roll out to a thin sausage shape, about 30cm long.
Put onto greased baking sheets and bake at 200°C/Gas Mark 6 for 15 minutes.
Make the dip (baba ganoush)
Pre-heat the oven to 220°C/Gas Mark 7.
Put the aubergines in a baking dish, slit the skin a couple of times, drizzle over 15ml oil and bake in the oven for 45 minutes until blackened, soft and collapsed.
Drain the chickpeas – keep the liquid to use in other recipes (try our Aquafaba Pavlovas) . With a paper cloth, dry off the chickpeas.
Peel and mince the garlic.
Allow the aubergine to cool a little, then scoop out the centre, discarding the skin.
Put the aubergine flesh into a food processor along with the chickpeas, garlic, paprika, chilli powder, lemon juice and the cumin. Blitz for a few minutes then gradually add the remaining oil in a thin stream as you continue to blend.
Season with some salt and black pepper.