BBQ salt and pepper poussin served with tasty vegetable kebabs.
Gressingham Salt and Pepper Poussin with Vegetable Kebabs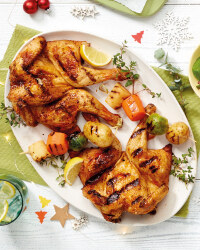 Recipe Information
Ingredients
2 x Poussin
2 x large Parsnips
2 x large Carrots
8 x Sprouts
8 x Mini Potatoes
25ml Soy Sauce
25ml Cranberry Juice
15ml Olive Oil with Garlic
Fresh Thyme
Sea Salt and Black Pepper
Method
Cook the poussin on the barbecue as per directions on the pack.
Peel the carrots and parsnips and cut each one into 4 chunks.
Parboil the carrots, parsnips, sprouts and potatoes in some boiling salted water for 5 minutes. Drain well.
Mix the soy sauce, cranberry juice and oil together – season with some salt and pepper.
Skewer one of each of the vegetable pieces onto the skewers to give you 8 kebabs.
Barbecue or grill for about 6/7 minutes, basting with the soy and cranberry mix.
Once cooked, sprinkle over some fresh thyme, drizzle over any leftover sauce and serve alongside the poussin.