Succulently light salmon with zesty lime overtones. Brilliant for the barbecue.
Grilled Salmon Skewers with Lime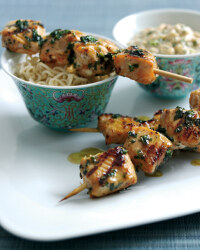 Recipe Information
Ingredients
4 salmon fillets (2 packs, defrosted) cut into 2-3cm cubes.
For the marinade
1 pot mint, roughly chopped
Finely grated zest of 2 limes
2 tbsp granulated sugar
1 tsp coarse ground black pepper
Pinch or 2 of salt
1 tbsp olive oil
For the dipping sauce
2-3 tbsp olive oil
1 small onion, peeled and finely chopped
1 tbsp fresh ginger, very finely chopped
2 cloves garlic, peeled and chopped
1 tsp chilli powder
2 tbsp red wine vinegar
115g smooth peanut butter
5-6 tbsp water
1 pot fresh coriander, chopped
2-3 spring onions, finely chopped
Instant noodles
Find your ingredients online on Click & Collect or find your nearest store using our Store Finder.
Method
Place the salmon cubes free of skin and bone onto 4 skewers.
Place the mint, zest and lime juice, sugar, pepper, salt and oil together in a bowl, mix really well.
Place the salmon skewers onto a plate or stainless steel tray, then pour over the mixture and coat well, leave to marinate.
Next, make the sauce by heating the 2 tbsp of olive oil, and then adding the onion, ginger, garlic, chilli and cook for 5-8 minutes to soften.
Add the vinegar, peanut butter to the pan, mix well and warm through off the stove, add the chopped coriander and the spring onions and add enough water to make a thick sauce.
When ready to cook, remove the skewers from the marinade, and pat really dry on kitchen towel.
Heat a barbecue or hot non stick frying pan, if using a barbecue, before heating lightly oil the bars with kitchen towel dipped in a little oil, also lightly oil the marinated salmon. This will stop them sticking.
Cook the salmon skewers for 3-4 minutes on each side. Serve with instant noodles and the dip on the side.