Sweet whisky cocktail shaken with fruit juices and ice. Served with orange peel.
Gunpowder Crackle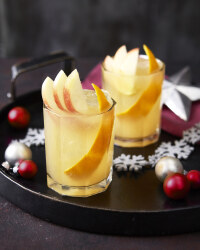 Recipe Information
Ingredients
50ml Glen Marnoch
10ml Gun Powder Whisky liqueur
10ml Lemon juice
20ml Cloudy Apple Juice
1 tsp of Specially Selected Sweet Rhubarb and Ginger Preserve
To Garnish
Orange Peel
Apple Slices
Method
Shake all ingredients with cubed ice and strain over fresh cubed ice in a short glass.
Garnish with a twist of orange peel and slices of fresh apple.