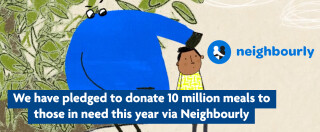 10 Million meal pledge:
We're taking direct action to tackle child food poverty in the UK, by growing the work we do with Neighbourly – who link businesses to charitable organisations in local communities – and pledging to provide 10 million meals to those affected in the UK.
Giles Hurley, Chief Executive Officer at Aldi UK and Ireland, said: "We're making it our mission to fight against child food poverty as no child should ever go hungry. Not only are we pledging to donate 10 million meals throughout 2021 to families that need it, this campaign also aims to help raise awareness of the increasing number of families struggling to put food on the table."
A poem for hunger
A young child's relationship with 'hunger' is emotively imagined in a poem by award winning children's author Giles Andreae, whilst celebrated illustrator Lisa Stickley brings the story to life in a beautiful accompanying animation. England footballer and child food poverty campaigner Marcus Rashford lends his voice to the cause with his narration.
No child should have hunger as their companion
One in five children in the UK live in a food-insecure household. So, we are committing to donating 10 million meals to those in need via our friends at Neighbourly.
TO DONATE A MEAL, CLICK BELOW
Meal time? Full Time!
As well as donating 10 million meals, we're helping tackle hunger with Full Time – a collection of easy-to-make recipes for affordable, filling and hearty grub with the help of celebrity chef Tom Kerridge and footballer Marcus Rashford. Let's get cooking!
Let's make it fairer
Hunger is a fact of life for millions of children around the UK. But it's our job to help put a stop to it. That's why we've launched our 10 million meals campaign, with our monster animation personifying 'hunger' to bring to life its devastating effects.
Our work with Neighbourly so far
Neighbourly CEO, Steve Butterworth, comments: "We are thrilled to be working with Aldi to further its commitment to supporting local communities and help make a dent in the UK's hunger epidemic. I know first-hand the vast number of children that rely on our local charity partners in order to go to bed without an empty stomach, and this commitment will go a long way for the families who are struggling to put food on the table."

You can find out how your local store is helping local charities in your area by visiting our pages here.

Ediblelinks uses surplus food to reduce food poverty and diet-related ill health for over 6,000 people each month in the Warwickshire area, supporting families referred from North Warwickshire Borough Council.
Sonya Johnson, Chief Executive Officer at Ediblelinks, said: "Aldi's generous donations help us to provide a balanced offer to each family referred to us, while also allowing us to give back to the families of those that have worked so hard this year. It has been a challenging year for everyone and after receiving a 170% increase in requests for the festive season, we're grateful for all the additional support we can get."
ALDI ATHERSTONE

Mickley Infant & Nursery School aims to support families of its school via a daily foodbank, reducing food waste and offering a donation service to parents who need it. Throughout the pandemic the staff have extended this to those of the wider community to help out where they can.
Headteacher Sara Street said: "The support from Aldi has been fabulous for our children and community. We are very happy that food waste is being reduced and people are able to access food through our school community."
ALDI ALFRETON