Succulent sausages with a Mediterranean twist.
Italian Sausage Rice Bake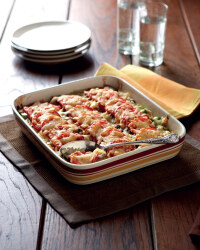 Recipe Information
Ingredients
400g Specially Selected Premium Pork and Herb Sausages
300g Bilash Long Grain Rice
3 pack Mixed Peppers
350g Mushrooms
450g Large Vine Tomatoes
440g Cucina Lasagne Sauce
100g Everyday Essentials Grated Cheddar Cheese
Solesta Mild Olive Oil
Ground Black Pepper
Find your ingredients online on Click & Collect or find your nearest store using our Store Finder.
Method
Preheat the oven to 200oC/400oF/Gas Mark 6.
Cook the rice as instructions on the pack.
Meanwhile chop the sausages into 4 pieces.
In a large frying pan or wok, brown the sausage pieces in a little olive oil drain and transfer to a rectangular baking dish.
Chop the peppers into small chunks - discard the stalk and any seeds and white pith, add these to the sausages in the dish.
Wipe the mushrooms with a damp cloth, cut in half then slice them.
Gently saute them with a little olive oil in the frying pan or wok, and then add to the dish.
Put the cooked rice in the dish with the other ingredients, season with some black pepper and mix well, pour over the lasagne sauce.
Slice the tomatoes thinly and place on top of the rice mixture in the dish.
Sprinkle over the grated cheese, put into the oven and cook for 30 minutes - until golden and piping hot - then serve.