This easy recipe brings rich Asian flavours together in a delicious winter warmer of a meal.
Japanese Style Seafood Hotpot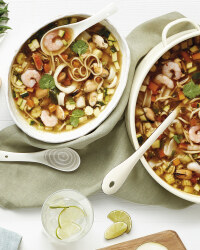 Recipe Information
Ingredients
350g pack Seafood Mix
20g Fresh Ginger, grated
2 Garlic Cloves, minced
1 heaped tsp Chilli Powder
70ml Dark Soy Sauce
2 Vegetable Stock Pots
150g Carrots, peeled
150g Courgettes, finely chopped
145g Baby Sweetcorn, thinly sliced
4 Spring Onions, trimmed and wiped
2 Sheets/approx. 175g Medium Egg Noodles
2 litres Water
Method
Pat dry the seafood.
Chop the carrots into small chunks.
Add the water and carrots to a large pan and bring to the boil.
Add the garlic and ginger, along with the soy sauce, stock pots and chilli powder and simmer for 5 minutes.
Add the courgettes, sweetcorn and spring onions to the pan and simmer for 5 minutes.
Finally add the noodles and seafood selection and cook for a further 10 minutes, stirring periodically and serve in bowls.