Smoked salmon and cream cheese add a touch of luxury to these delicious pancake rolls.
Kilmare Pancakes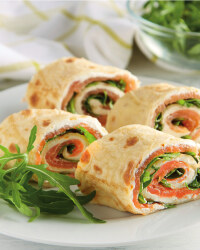 Recipe Information
Ingredients
100g Plain Flour
280ml Milk
2 Large Eggs
Pinch of Salt
¼ tsp White Ground Pepper
12g Chopped Fresh Chives
Some Olive Oil for frying
200g Smoked Salmon
70g Pack Rocket Leaves
200g Soft Plain Cheese
25cm Frying Pan
Find your ingredients online on Click & Collect or find your nearest store using our Store Finder.
Method
Put the flour, pepper and salt in a mixing bowl.
Break the eggs in another bowl and whisk, then add the milk and whisk again.
Make a well in the flour mixture and add the egg mixture, beating as you go until you have a smooth batter, add the chopped chives and stir through.
Grease the frying pan with some olive oil and make 8 pancakes – keeping them warm whilst you cook the rest.
Divide the soft cheese between the pancakes, spreading over like butter.
Add a slice of smoked salmon to each, divide the rocket between the pancakes and roll up and serve.