Wonderfully tender lamb, stewed in a hearty tomato stock and served with delicious feta and mint dumplings.
Lamb & Butternut Squash Casserole with Feta & Mint Dumpling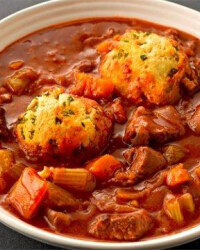 Recipe Information
Ingredients
2 tbsp Solesta Sunflower Oil
1 large red onion, peeled and thickly sliced
1 medium butternut squash, peeled and cut into bite-size pieces
2 sticks of celery, sliced
1 bay leaf
3 x 250g packs Lamb Leg Steaks, diced
3 tbsp The Pantry Plain Flour
3 tbsp Bramwells Specialty Caramelised Red Onion Chutney
2 peeled strips lemon zest
2 tbsp Cucina Tomato Puree
300ml Cotes Du Rhone
300ml lamb or beef stock
Stonemill Salt
Stonemill Black Pepper
Ingredients for the dumplings
75g fresh white breadcrumbs
75g The Pantry self-raising flour, plus extra for dusting
75g Norpak Spreadable diced
100g Lyttos Greek Feta Cheese, finely crumbled
1 tbsp finely chopped mint leaves
1 large egg, lightly beaten
Method
Heat the oven to 180ºC/160ºC fan/gas 4.
Heat the oil in a large casserole dish.
Add the onion, squash, celery and bay leaf.
Sauté for about 5 minutes then add the diced lamb.
Cook until the lamb has browned all over, then sprinkle over the flour.
Cook for about 30 seconds or so before stirring in the caramelised red onion chutney, lemon zest, tomato puree, red wine and stock.
Season with salt and pepper.
Bring to a simmer, cover with a lid and place in the oven for 1½ hours until the sauce is thickening.
Meanwhile, make the dumplings.
Place the breadcrumbs, flour and butter in a food processor and blitz until the mixture resembles fine breadcrumbs.
Add the feta cheese, mint and egg, and season with salt and pepper.
Blitz briefly until the mixture forms a fairly moist dough.
With floured hands, divide the dough into 8 equal portions and shape them into balls.
After the casserole has been cooking for 1½ hours, take it out of the oven and remove the lid.
Sit the dumplings on top of the lamb.
Return the to the oven, uncovered, for a further 30 minutes, until the dumplings are golden and the casserole is rich and thick.
Serve the casserole just as it is or with some seasonal green veg.