Classic pancakes with an indulgent twist.
Leek and Goats Cheese Pancakes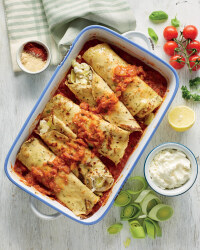 Recipe Information
Ingredients
Pancakes
100g The Pantry Plain Flour
2 medium Eggs
250ml Milk
1 tsp Stonemill Paprika
1 tsp Stonemill Garlic Granules
2 tsp Stonemill Dried Parsley
10ml Rapeseed Oil
Black Pepper
Sunflower Oil, to fry
20cm frying pan
Filling
300g Leeks
25g Salted Butter
150g log Goats' Cheese
Black Pepper
Sauce
1 small Onion
400ml tin Sweet Harvest Chopped Tomatoes
30ml The Pantry Lemon Juice
10g fresh Basil
20ml Olive Oil
1 tsp Stonemill Paprika
Method
Make the pancakes.
Whisk the eggs with the milk.
Add the paprika, garlic, parsley, rapeseed oil and some black pepper, then whisk well.
Sift the flour into another bowl, make a well in the centre and gradually add the milk mix until you have a smooth batter.
Make 8 pancakes with the mix and put to one side.
Make the filling.
Wash the leeks well – dry and slice.
Melt the butter in a frying pan – add the leeks and cook stirring for about 5 minutes until just tender.
Add the goats' cheese, season with black pepper and cook until melted – put to one side.
Make the sauce.
Peel, halve and finely chop the onion.
In a small frying pan, sauté the chopped onion in the olive oil for a couple of minutes.
Add the tinned tomatoes, paprika and lemon juice.
Chop the basil and add to the sauce.
Heat through then liquidise.
Heat the oven to 200°C/400°F/Gas Mark 6.
Lay the pancakes out.
Divide the mixture between them and roll up.
Put into a baking dish, pour over the sauce and bake in the oven for 20 minutes, then serve.