Our delightfully light Lemon and Sherry Posset is a delicious option for dessert.
Lemon and Sherry Posset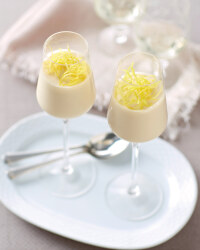 Recipe Information
Ingredients
Juice and grated rind from half a lemon
20ml Caversham Cream Sherry
200ml Cowbelle double cream
35g The Pantry caster sugar
Method
Put the lemon juice, sherry and caster sugar into a heatproof bowl.
Put the cream into a small saucepan, and slowly bring to the boil, stirring as you do.
Pour the boiling cream over the lemon and sherry mixture, whisk well - pour the mixture into two glasses - allow to cool - sprinkle over the grate lemon rind and refrigerate.