Our wonderfully rustic fruitcake recipe is brilliant for a Sunday afternoon.
Loaf Fruitcake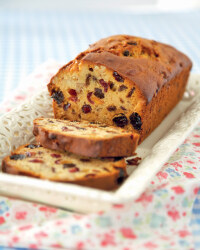 Recipe Information
Ingredients
2 large eggs - separated
1 x 2lb loaf tin - lined
200g The Pantry plain flour
100g The Pantry caster sugar
125g Greenvale unsalted butter
60g The Pantry walnuts
40g Sweetvine sultanas
40g cherries
1 x 150g packet berry fruit mix
70g honey
60ml semi skimmed milk
1 x tsp baking powder
Find your ingredients online on Click & Collect or find your nearest store using our Store Finder.
Method
Preheat the oven to 180°C/350°F/Gas Mark 4.
Cut the cherries into quarters, break up the walnuts, mix together in a bowl and add the rest of the dried fruits.
Take a dessert spoon out of the flour and mix in with the fruit and nuts.
In a large bowl cream the butter with the sugar and honey.
Beat in the eggs and the milk.
Then fold in the flour and baking powder.
Mix in the dried fruits and walnuts.
Turn this mixture into the tin.
Bake for 45/60 mins, until risen and golden brown and when you put a cocktail stick into the cake it comes out clean.
Transfer to a wire rack to cool.