A super-healthy, fruity and astonishingly refreshing smoothie. Perfect for a warm day.
Mango, Pineapple and Kale Smoothie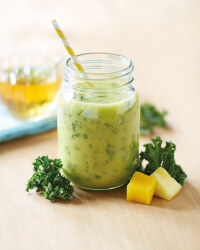 Recipe Information
Ingredients
200g Mango Chunks
200g Pineapple Chunks
30g Curly Kale
200ml Rio D'Oro Apple juice
Find your ingredients online on Click & Collect or find your nearest store using our Store Finder.
Method
Chop the kale finely.
Put all the ingredients into a food processor and pulse till well blended and serve.