A fruity gin and mango cocktail with tonic.
Mango Tonic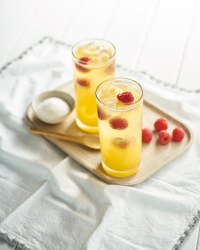 Recipe Information
Ingredients
50ml gin
1 tbsp sugar
20ml lemon juice
50ml blended mango
Raspberries to garnish
Tonic water
Method
Put the gin, sugar, lemon and mango puree into a shaker with ice.
Shake, strain over ice and top with tonic water.
Garnish with raspberries.