Bring a taste of the Mediterranean to your dinner table with this hearty fish bake.
Mediterranean Fish Bake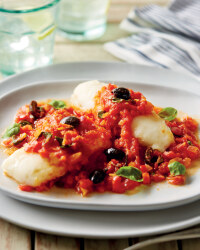 Recipe Information
Ingredients
4 Salmon or Cod Fillets
400g tin Everyday Essentials Peeled Plum Tomatoes
2 small Red Onions
1 Sweet pointed Red Pepper
20 Solesta Pitted Black Olives
Juice and grated zest of 1 Lime
6g Fresh Basil Leaves – torn
2 cloves Garlic
1 tsp Stonemill Paprika
1 tsp Stonemill Chilli Powder
70ml Baron Saint Jean White Wine
30ml Solesta Olive Oil
Sea Salt
Black Pepper
Method
Pre-heat the oven to 200°C/400°F/ Gas Mark 6.
Peel, halve and finely chop the red onions.
Cut the red pepper in half lengthways, discard any seeds and white pith and chop finely.
Peel and finely chop the garlic.
Cut the olives in half. In a medium saucepan fry the chopped onion in the olive oil for a few minutes on a low heat then add the garlic and the pepper.
Cook, stirring for another 3 minutes.
Add the tomatoes and with the back of a wooden spoon squash until they break up.
Add the lime juice, zest, white wine, olives, basil leaves, paprika and chilli powder.
Season with a little salt and plenty of black pepper and cook gently for 10 minutes.
Put the fish fillets in a baking dish, pour over the sauce and bake for 15 minutes.
Great served with baby new potatoes.